Based out of deluxe, locally owned, and tasteful VIK lodge. For 4 skiers/snowboarders with one guide.
Includes
6 full days of Heli-Skiing / Heli-Snowboarding
PRIVATE HELICOPTER: 10 hours of flight time (1 group only, 2 more hrs of flight time than our regular privates)
7 nights lodging (single room), breakfast, daily heli-picnic, and dinners included. (6 at our SUPER deluxe Lodge VIK and the last night at the Ritz-Carlton Hotel)
Small groups (4:1 guide ratio for our Eccuriel AS 350- B3 or our Bell 407)
Experienced and professional UIAGM / IFMGA certified Heli-Ski Guides
Safety equipment, transceiver, probe, shovel, and ABS (Avalanche Airbag System)
Powder Skis and/or Snowboard equipment
Ground transportation, including pick-up at the airport and drop-off after the last day of skiing to either your hotel or airport.
6 Day Private Week
Book Now€14,700
1 group, 10 hrs of flight time
Terrain
We ski a bit south of our previous operation in vast and overwhelming great terrain,where we have access to thousands of hectares of unlimited terrain, most of this terrain is still  unexplored, so you will be doing first descents and naming runs! This is an amazingly vast mountain region offering a wide variety of perfect heli-skiing terrain. Every run is surrounded by a breathtaking backdrop of 5,000-meter peaks.
We have the benefit of a maritime snowpack, which is light and dry due to the high altitude, synonymous with champagne powder at its best. Snow accumulation comes from the Pacific Ocean, a mere 100 miles (160 km) west of the Andes. Flying conditions are best during winter due to an almost zero thermal reduction, which keeps the cumulus clouds away and leads to an abundance of clear days.
Historically Powder South average is 5 days of skiing out of 6 days in a week of skiing.
Not Included
Additional flying time is €2,600 per hour
Personal items and services (alcoholic beverages, tips, laundry, etc.) and expenses incurred in the case of an evacuation or rescue
Single supplement fee – None
Non-skier guest lodging & board – €4,200
VIK Lodge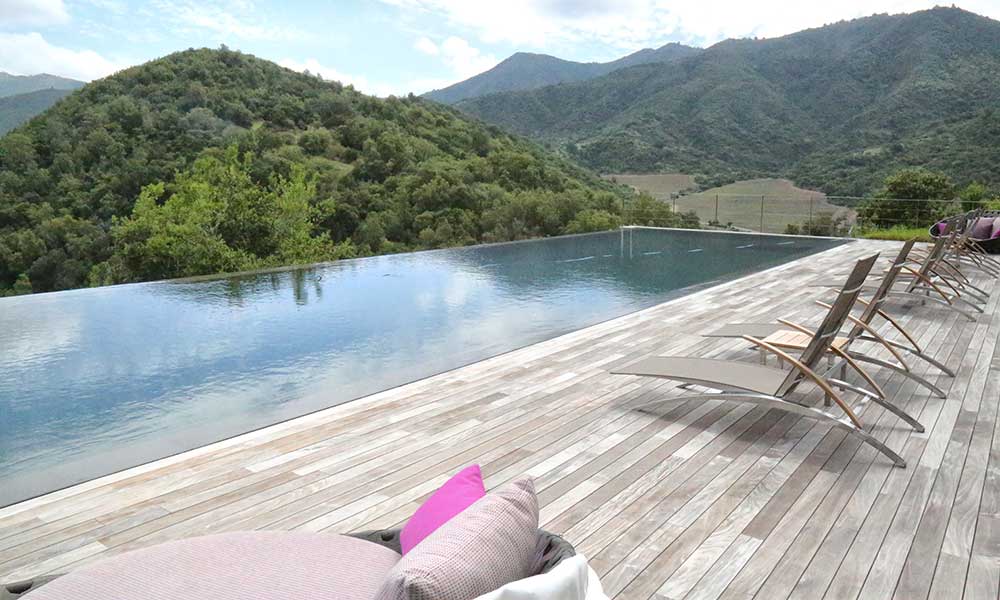 The lofty heights, scenic landscapes and futuristic designs will take you to another world.
Perched on a hill top in the midst of an 11,000 acre estate, VIK Lodge in Chile is the cutting-edge, James Bond-esque design masterpiece of Alexander Vik and his wife Carrie, along with renowned Architect Marcelo daglio. Hovering in your carbon fiber hammock-style bathtub in the VIK suite after skiing great powder all day long, you can gaze out across the Lodge own private vineyard, over the rolling foothills of the Millahue Valley and out towards the snow-capped peaks you have just skied! VIK lodge is located at about 2 hrs from Santiago by car.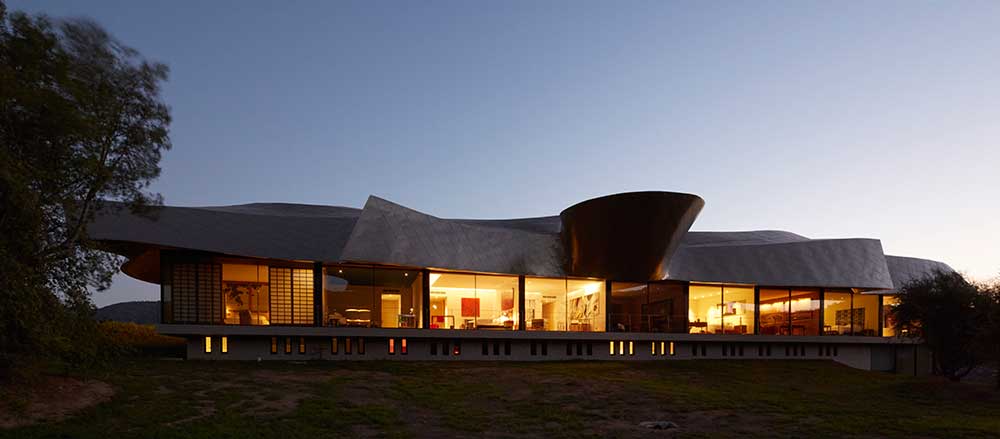 VIK is located in Millahue, Chile, approximately two hours south of Santiago. The property is 4,325 hectares (10,688 acres) comprising the end of the entire Millahue valley. The vineyard retreat is perched on and covers a hilltop above a lake at the center of the vineyard with panoramic 360 degree views. The vineyard can be seen spreading into the many smaller valleys and weaving among numerous gorges and mountains. In the distance are the majestic Andes Mountains.
Viña Vik is an avant-garde retreat and wine-spa that merges exceptional design, incomparable location and natural setting, warm authentic service, and environmentally- minded practices. A singularly remarkable celebration of its location, Viña Vik showcases cutting-edge architecture, art and design.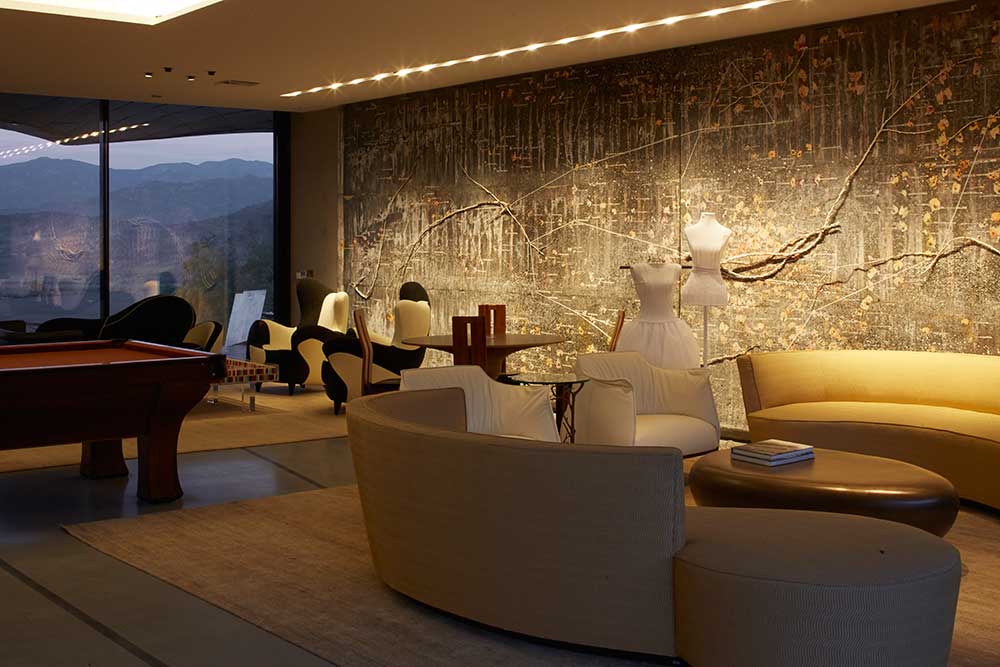 Designed by Alexander and Carrie Vik, the visionaries behind Vik Retreats, in association with Marcelo Daglio, Viña Vik is a 22-room retreat perched on a hilltop with breathtaking 360-degree views across the 11,000-acre property. The visually stunning hotel features innovative design and an extensive collection of site-specific artwork by Chilean and international artists, most of them created specifically for the retreat in cooperation with Alexander and Carrie Vik. Each of the 22 suites offers singular décor, art and a unique experience for guests, as no two are alike. The building is transparent while still providing privacy for each suite, and has a floating sculptural roof of bronzed titanium inspired by the surrounding mountains, the wind, and the work of Frank Gehry and Richard Serra.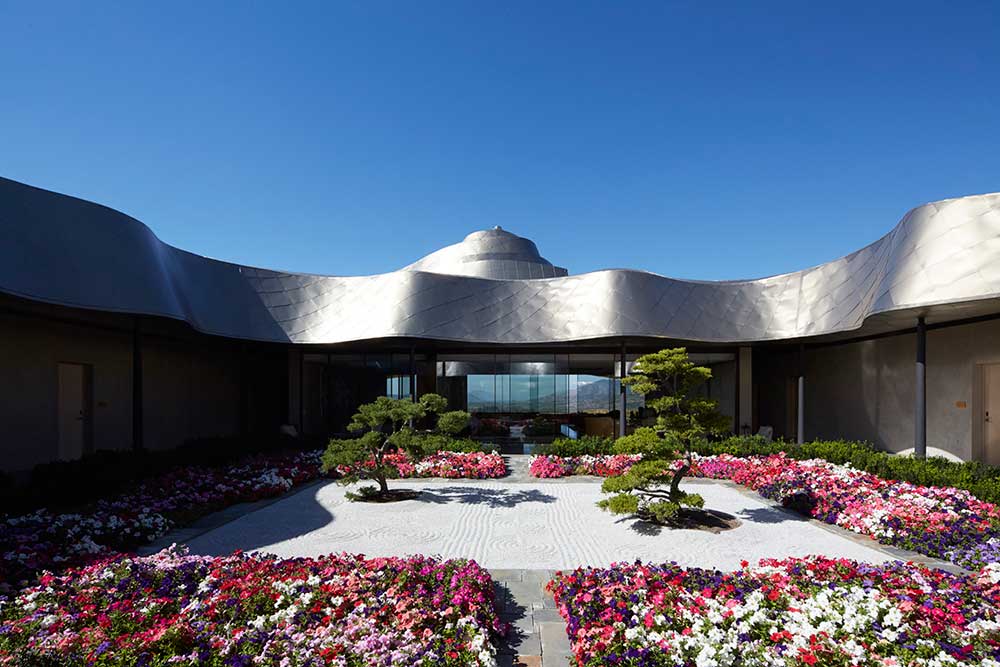 Viña Vik welcomes guests through a central, open-format public living area and gardens. Every suite boasts floor-to-ceiling windows, allowing guests to take in the majestic views across the property. Beyond the public living areas, guests will find a beautiful cantilevered slate pool extending out over the valleys and lake below, offering the sensation of swimming above it all.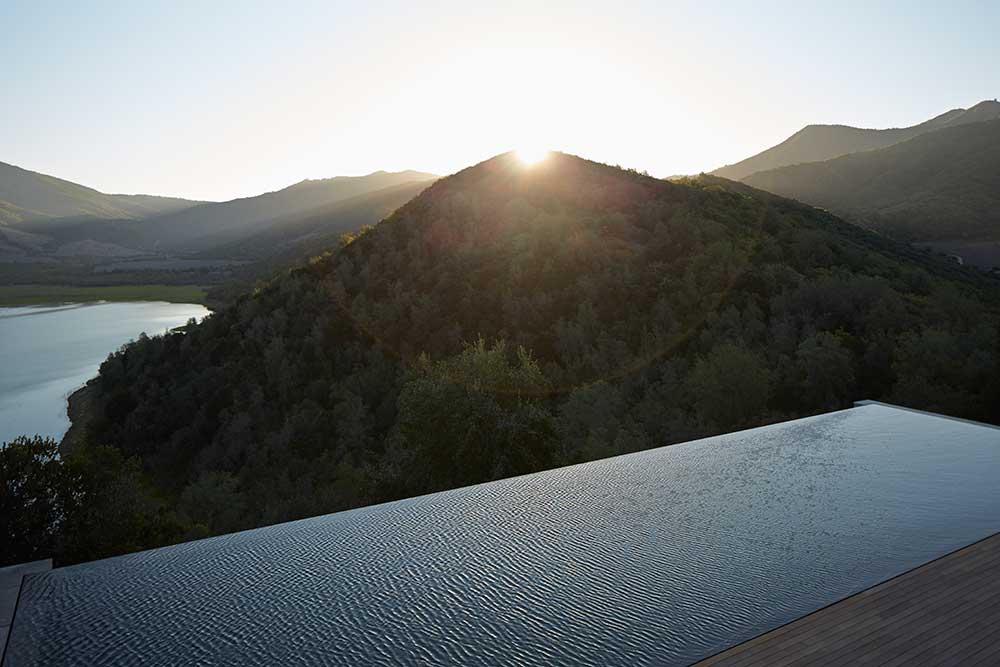 Individual suites all feature exclusive art and design. For example, The Vik Suite features works by artist Antonio Segui and James Turrell, among others, as well as a never-before seen hammock-style Vessel Bathtub by Splinter Works, ideally positioned to take in the spectacular VIK landscape. The Azulejo Suite features a Portuguese Azulejo tile mosaic spanning one entire wall and the ceiling, depicting the vineyard landscape in its entirety and art by Pablo Montealegre. The Chile Suite features a variety of Chilean art and design. Francisco Uzebeaga's unique portrayal of Hollywood film scenes on canvas is also on display in the Hollywood suite, while the Fornasetti Suite pays homage to the great designer of the same name with his original furniture and design elements.
Viña Vik features an exquisite collection of art and art installations, including works by leading international artists as well as creations of the retreat's owners, Alexander and Carrie Vik. Art and design are central to the interior spaces and showcased throughout the retreat, from each piece of furniture, to murals and installations, to sculpture and paintings alike.
Green Design
The design of Viña Vik has focused on minimizing the need for energy use by maximizing natural resources to heat, cool, ventilate and irrigate. The property operates in an environmentally-conscious manner through its extensive use of water collection and recycling, solar technologies, intelligent energy efficiency systems and green architecture. Radiant heat is generated by solar tubes, while fireplaces provide additional heat and ambiance when needed.
More information on Vik Lodge