POWDER SOUTH HELI-SKI GUIDES is happy to announce the opening of its northern Patagonia Heli Ski base out of Barraco Lodge. Powder South will be offering Heli-Ski weeks this 2020 season during the months of September and October. This is great news for heli-skiiers and heli-boarders, opening up pristine terrain and ever more ski adventure in this astonishingly beautiful land of wild rivers, granite cliffs, waterfalls, hidden lakes, glaciers, and volcanos.  BARRACO LODGE is set in a 150-acre property bordering Lake Tagua Tagua and the Puelo River. Surrounded by some of the oldest rain forest in the world, this Patagonia-style lodge offers guests an authentic experience in Chile's far south, and a taste of the region's famous hospitality.
Based out of Barraco Lodge, a typical Patagonian style lodge, located on 150 acres bordering Lake Tagua Tagua and the Puelo River. For 8 skiers/snowboarders with 2 Mountain Guides (minimum of 4 people).
Heli-ski Packages
---
Includes
6 full days of Heli-Skiing / Heli-Snowboarding
Lodging in Barraco Lodge (details below)
6 nights at Barraco Lodge, with breakfast, daily heli-picnic, and dinner, plus 1 night in the Mandarin Oriental, Santiago, Ritz Carlton or W Hotel in Santiago, with breakfast
Small groups (4:1 guide ratio for our AS 350- B3 / A- STAR)
Experienced and professional UIAGM / IFMGA certified Heli-Ski Guides
Safety equipment, transceiver, probe, shovel, and ABS (Avalanche Airbag System)
Powder Skis equipment
Ground transportation from Puerto Montt's El Tepual Airport to Barraco Lodge, a 3-hour drive, including pick-up at the airport and drop-off following the final day of skiing to either your hotel in Puerto Montt or the-airport. Flight option 30 minutes one way.
Not Included
Additional flights ($3,600 per hour)
Flight option between El Tepual Airport in Puerto Montt and Barraco Lodge
Personal items and services (alcoholic beverages, laundry tips, etc.) and expenses incurred in the case of an evacuation or rescue
Single supplement fee – $2,000 for week-long packages, FREE for private packages
Non-skier guest lodging and board – $2,800
---
Barraco Lodge Location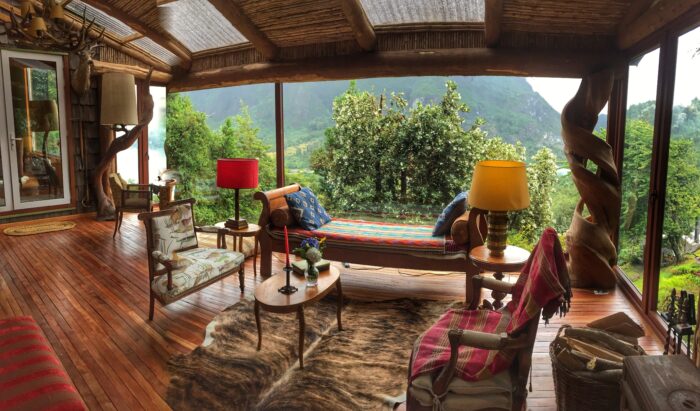 Barraco Lodge is ideally located to explore the natural beauty of northern Patagonia and the region's Pacific coast. The main building of the lodge's complex is a colonial-style house built in 1940. Its renovation was directed by Edward Rojas, an authority on regional architecture, and was carried out entirely by regional craftsmen and with local materials. Rojas's architectural philosophy is to build in harmony with the region's natural surroundings, and with respect for cultural traditions.
Barraco is one of the best-equipped lodges in northern Patagonia, with helicopters, motor boats, kayaks, river rafts, and horses available for guests. Professional guides for fly fishing excursions, river rafting, hiking, camping and horseback rides are also available.
After a day of adventure, the lodge awaits guests with hot tubs, saunas, and a massage room. Relax in front of a crackling fire with a glass of wine from one of Chile's internationally famous wineries, or a bottle of craft beer. Barraco Lodge pays special attention to the use of fresh, local ingredients. Most of the vegetables served at the lodge come from its organic orchard and greenhouse. Guests are encouraged to visit them and participate in the gathering of ingredients and preparation of meals.
Chef Maite Daroch´s cuisine features classic Patagonian specialties, such as lamb and wild boar, king crab, and a wide variety of seafood, including locally caught fresh water fish. Many dishes are cooked in the lodge's clay oven. They also offer a variety of vegetarian and vegan options, such as dishes prepared with morchela (morels), a delicious wild mushroom found in the Puelo Valley. They also offer the famous curanto, a specialty from the island of Chiloe, made of seafood, meat, and vegetables cooked over heated stones in a hole dug into the earth and covered with nalca leaves.
For a Patagonian asado (barbecue), a lamb is roasted to perfection over an open fire. The conversation and stories exchanged during the lengthy preparation sum up the philosophy of the hardy, resourceful people who settled this area of Chile and Argentina in the late 19th and early 20th century: preparing food and eating are activities to be shared and savored.