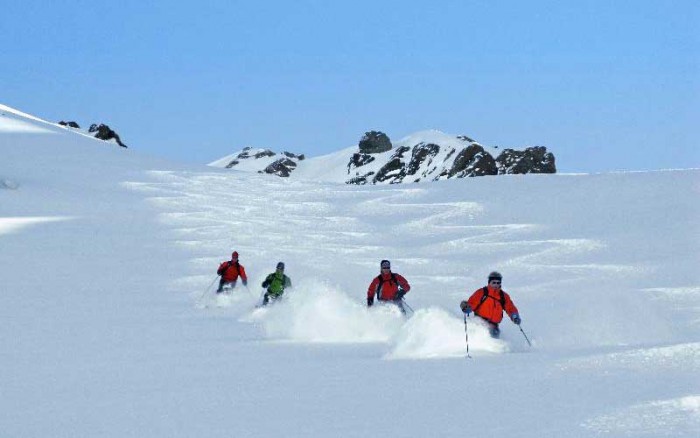 Deep powder awaits heli skiers, snowboarders in Chile and Argentina with POWDER SOUTH
Thanks to the Internet, news has traveled around the world about the extraordinary winter storm that blanketed the central Andes in Chile and Argentina with more than 2 meters of snow this past weekend (we received 220 centimeters at our measuring station at 3,000 meters elevation, and there may be more in the vicinity). Yes, winter started slowly this year, but it is now in full swing with a suddenly deep snowpack and excellent conditions awaiting those who venture to South America for a ski/snowboard adventure of a lifetime.
The snowpack appears stable and ready to be tracked.
POWDER SOUTH director Rodrigo Mujica.
POWDER SOUTH is anticipating a busy season with plenty of soft turns thanks to an El Niño that some meteorologists are calling the strongest in many years, and as company co-founder & director Joaquin Oyarzun points out, more snow is in the immediate forecast. Only a handful of spaces remain open on PS's schedule, so if you want to join us for a ski experience unlike anything else in the world, don't wait much longer. Here are the available weeks with spots still available:
Week 7, July 25 to Aug. 1: One (1) space remains for a week of skiing in Argentina's Uco Valley, where clients get the unique opportunity to ski first descents and name the runs they skied.
Week 8, Aug. 1-8: Two (2) spaces remain for a week of skiing out of Chile's beautiful Andino Lodge.
Week 11, Aug. 22-29: Four (4) spaces remain for a week of skiing in the Uco Valley in Argentina.
Week 12, Aug. 29 to Sept. 5: Four (4) spaces remain in the Uco Valley.
Week 13, Sept. 5-12: Eight (8) spaces remain in the Uco Valley. Organize a big group of friends and book the trip together!
Week 13, Sept. 5-12: Eight (8) spaces remain in the Maipo Valley in Chile.
That's what we have available, so give us a call or send us an email and we will take care of you and answer any questions you might have.
In other news
The Chilean national football (soccer) team just upset neighboring Argentina and won the Copa America for the first time! It has been a glorious time here in Santiago, and now that the Andes are covered in white, the energy will only get better.