COMBINATION PACKAGES – SEMI-PRIVATE WEEK WITH 2 HELICOPTERS
Dear Skiers and Riders,
Powder South wants to welcome you for 2018 Heli-ski season, our 15th year of successful operation. Concerned about your desires and satisfaction, Powder South has been innovating for the coming season offering different new variety of packages, for you to get the option that suit you best.
 NEW : our COMBINATION PACKAGES give you the opportunity to have the best of our different accommodations and ski area in one week period for nearly the same price. Based out of 3 Lodges, you will choose between El Morado Lodge, Puma Lodge and Santiago Luxury Hotels as follow:
EL Morado (3 nights), Puma Lodge (3 nights), Santiago (1 night)
EL Morado (3 nights), Santiago (4 nights)
Puma Lodge (3 nights), Santiago (4 nights)
So now, you will be able to make the most of our two modern and deluxe Andean Lodges on the one hand : El Morado Lodge (in the Maipo Valley) and the Puma Lodge (in the Cortaderal and Cachapoal Valleys), both surrounded by stunning mountain scenery, giving access of endless and pristine terrain at your doorstep. And on the other hand, enjoy all the facility of a cosmopolitan city in a 5-star hotel. Santiago is a happening city of sophistication, the highest standards in cuisine, and great nightlife.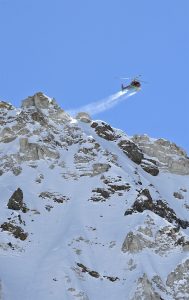 Our COMBINATION PACKAGES are available for Private Week (only 4 people) and Semi-Private Week (8 people) with two Helicopters.
NEW : Semi-Private Week (8 people) with two helicopters.
Now each group of 4 people will get its own helicopter and with a ratio of one guide for 4 people, you will feel like a private!
You do not have the same ski/snowboard experience or desire of the rest of the group ? No problem, our highly skilled and professional guides find terrain to match every skier and snowboarder's ability and standards, now, with your own helicopter. So join our new Semi-Private week with two helicopters tailor-made for you !
This Package is available for all our accommodation option and of course, for our attractive COMBINATION PACKAGE.